Your yard is an extremely important extension of your home.   Your landscaping should be a reflection of the interior and exterior style of your home.  In this article we will discuss four basic concepts to use when upgrading your landscape to compliment the improvements to your home.
Level the Landscape
One simple way to increase the aesthetics of your yard while increasing the utility and beauty of the space is to level your landscape.  Homes built on an odd slope or cursed with sections of uneven land are not conducive to an active family.  When you level the landscape around your home it makes the space ideal for a patio or an area for kids and pets to run around and play.
Install a Decorative Aluminum Fence
A decorative aluminum fence is the perfect addition in the creation of an inviting yard.  Not only is ornamental aluminum fencing appeal visually it is ideal when it comes to protecting your home and family.  Installing a durable, maintenance free aluminum fence creates a barrier keeping kids and pets in while discouraging unwanted trespassers from entering the property.  With the installation of aluminum fencing homeowners are certain to increase the value of their homes.  It is one of the only landscape additions where the expense is recouped with an increase in your homes equity.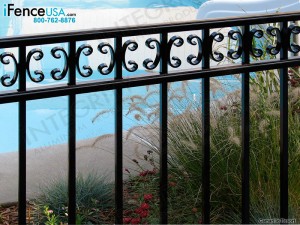 Add Shade Trees
Adding trees especially shade trees to your yard will help to make your home and landscape more inviting.  Not only can mature trees increase the value of your home seven to nineteen percent they add to the visual appeal of your landscape.  Shade trees provide a home for roosting songbirds, cover for small animals and a canopy from the sun which helps to keep your home cool during the summer months.  Trees add personality and dimension to your space.  Trees can be purchased in a variety of variations and sizes.  Make sure you chose trees that will flourish in your climate for the most ideal results.
Install an In-Ground Swimming Pool
Upgrading your landscape with an in-ground swimming pool is almost mandatory in southern states.  Here in the north a swimming pool is a luxury addition to your landscape.  No matter where your home is located a swimming pool adds a component to the space that nothing else can.  A pool adds the feeling of relaxation to any landscape.  The minute you step into the space you instantly retreat to the feelings you experience on vacation.  The water helps homeowners unwind, slow down and kick back.  Your home and landscape will soon be the local sanctuary for your friends and family.
The addition of any one or all four of these yard improvements will help to ensure your landscape stays up to date with the improvement to the interior and exterior of your home.
iFenceUSA offers the widest variety of maintenance-free, no-rust aluminum fences and gates in the industry! Whether you are a pool contractor, a building contractor, an architect, a landscaping professional, or a "do-it-yourself" homeowner looking for exceptional value and installation advice, you'll benefit by buying wholesale aluminum fences shipped factory-direct to your home or business anywhere in America from www.iFenceUSA.com!