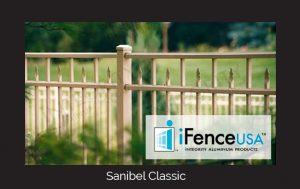 There is no reason to struggle when it comes to purchasing a fence for your home or business.  No matter where your fence is going to be installed it aluminum fence panels are the solution to your fencing needs.
Aluminum fencing has been a popular option in commercial pool fencing for awhile now.  Do you want to know why? The answer is that not only is it simple to plan for and order online, it is also easy to install and best of all DURABLE and practically MAINTENACE FREE!  Why spend an entire weekend over the summer cleaning and staining fencing when you don't have to?  Time is precious and the last thing that should consume an entire weekend is fence maintenance.
Choosing the Best Fence Material
Let's start where we began in the article, pool fencing.  Why is aluminum the best option when fencing in the perimeter of your swimming pool?  As earlier mentioned, outdoor commercial pools have been choosing aluminum for their fencing needs for years now.  Pool water contains chlorine or for some salt water, both corrosive to many fencing materials.  Without a doubt the fencing around your pool will get wet and needs to be able to withstand the harsh chemicals.  Aluminum is coated with a powder coating that allows the paint to withstand not only harsh pool water chemicals but also the beating of most natural climates.
Another reason that aluminum is used when fencing in swimming pools is because of its overall reputation for safety.  In a pool setting the number one concern is safety and aluminum fencing and gates provide both.  Aluminum pool gates from iFenceUSA are equipped with self-closing swing mechanisms that automatically latch.  This prevents a gate from accidentally being left open.  Not only do our aluminum pool gates contain these extra safety devices our aluminum fencing panels are suited to meet B.O.C.A. regulation, narrowing the spacing between vertical and horizontal pickets.  This close spacing helps prevent children from climbing the fence to gain access when not supervised.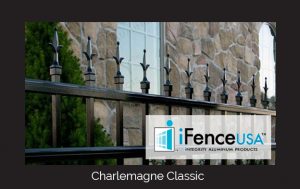 Less Maintenance
The fence specialists are always answering questions regarding the maintenance of aluminum fence.  Most consumers don't understand how aluminum can look exactly like wrought iron but that it doesn't rust.  What allows aluminum fencing to stay rust free?  The answer is that although the oxidation process still occurs with aluminum it doesn't concern aluminum fencing panels because of the powder coating that is used on top of the panels and posts.  The powder coating protects the aluminum from moisture.  This protection against moisture creates an environment that is not favorable for rust to form, thus aluminum fencing stays free of rust.
Installation is another common concern surrounding fencing.  Although the installation of a fence is a large scaled job, aluminum fencing is easier than most other types of fencing naturally.  Can homeowners install aluminum fencing without hiring an installation expert? The answer is an unequivocal, YES!
The entire process from ordering to installation is easier with aluminum fencing.  There are several online tools at www.ifenceusa.com for homeowners to use when planning for and installing aluminum fencing.  The online ordering options allow homeowners to upload an image of their space and virtually plug in the different styles and sizes of aluminum fencing.  Once you have established a layout diagram that you are pleased with ordering is as simple as answering a few basic questions about your landscape.  Following the diagram will ensure you order the right number of posts and panels.  This diagram will be included in your fencing shipment with detailed installation instructions.  Do you remember those paint by number canvas's we all painted as little kids?  Yep, your fence installation can be that simple.  Many customers have been blown away by the simplicity of the installation process.  This is not to say it is done without some good ole fashion hard work, time, and patience however it can be done without stressful complications that are found with the installation of other fencing materials.  You don't sacrifice quality saving money on installing aluminum fencing with the DIY method.
Aluminum fence panels and gates have an abundance of benefits over other materials available to homeowners and commercial users.  Not only is aluminum affordable it offers durability, low maintenance, ease of installation, an abundance of options, styles, and more.
 iFenceUSA is an online distributor of wholesale aluminum fences and gates for residential, resort, commercial, and industrial installation.  As an industry leader in maintenance-free aluminum fencing products we have all your aluminum fence and gate needs covered.  More information can be found online at https://ifenceusa.com/.