Without a doubt aluminum is the best option in fencing.  The pros will outweigh the cons in a battle between aluminum fencing and all other fencing materials, every time.  Not only is aluminum the strongest metal fence, it is affordable, easy to install, and is requires minimal maintenance to keep it looking as good as it did when it was delivered. 
There are a number of fencing materials to choose from in both commercial and residential settings, but none are as resilient as aluminum. It is a material that has been created to withstand no matter how little or how much it is used. If you are worried about how it will withstand your specific climate, don't be. Aluminum fences, aluminum gates, and aluminum driveway accesses are guaranteed to withstand the elements. The panels are finished with a special powder-coating that makes their finish fairly indestructible. Powder coated aluminum panels stop moisture, debris, chlorinated water, dirt, and other hazards from harming the metal as well as the surface. Thus, both fencing and gates appear new even after having been installed for years.
Why Aluminum Is Better Than Subpar Fencing Materials?
There are plenty of other fencing materials that people could choose but those some with a myriad of disadvantages over aluminum. Wood is beautiful, there is no denying that. The disadvantages of wood however run the gamut: it is quick to rot, requires time consuming maintenance on a yearly basis, and is not necessarily strong. Chain link is far from attractive or secure. Its main purpose is containment verse aesthetics or security.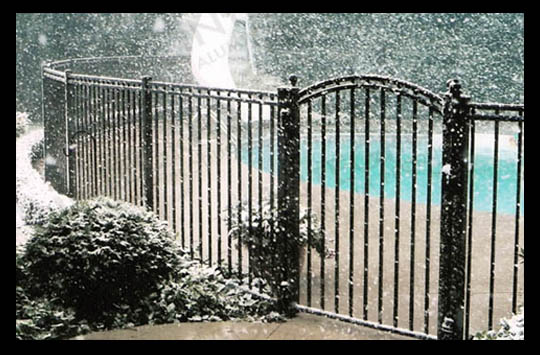 Why Aluminum Is the Best Fencing Material for Varied Climates?
It is important that the material you choose for fencing and gates can hold up under any type of weather that it may endure. Whether it be strong wind, heavy rain, hail, snow, chlorinated water, salt water, freezing rain, humidity, dry arid air, or whatever else can be thrown at it, aluminum can withstand. Aluminum comes in four grades: residential, pool/resort, commercial, and industrial. The strongest being industrial. Industrial grade aluminum fence panels are the heaviest and most indestructible of options both commercial and residential users can choose from. Choose the grade that is most acceptable in your application.
Why aluminum Is the Best Material in Fencing Against Unwanted Visitors?
The reason most often given for installing a fence is security. A fence provides the ability to keep animals and kids contained as well as keeping unwanted people and animals out. The benefit with aluminum over other fences is that it makes entry into the area difficult. Aluminum is not easy to scale, pushing it over is not probable, and additional pickets can be added to decrease the space between the pickets for added privacy. Aluminum fence panels can be ordered in a number of widths and heights as well which adds to the security it provides.
The installation of a fence, gate, and driveway entry gate don't just enhance the aesthtics of your property. They add an element that is similar to your home's front door; it welcomes entry to those you want and provides security against those you don't.
iFenceUSA is an online distributor of wholesale aluminum fences and gates for residential, resort, commercial, and industrial installation. As an industry leader in maintenance-free aluminum fencing products we have all your aluminum fence and gate needs covered. More information can be found online at https://ifenceusa.com/.