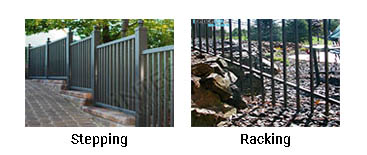 Installing fencing in locations that blessed with slopes, hills, or any tricky landscape feature can be a challenge. Whether you are searching for ways to keep your home and family secure or you just want to add a little privacy to your space don't let a few complicated yard elements stand in the way of you and your new fence.
Erecting a fence can be difficult when there are unique characteristics in the landscape of the space you wish to utilize. You may have large rocks in the way of a fence post. Perhaps you desire to install a fence in a commercial setting, but you also need to make sure you leave space for parking and driveways. Sometimes a fence needs to be installed on an incline. Aluminum fencing can meet the challenge that any landscape throws at you.
Hills, Slopes, and Valleys
A landscape with lots of different land elevations is the trickiest of all to install fencing on. Not every type of fencing can handle various grades however, aluminum fence panels are manufactured in a way that installation can be done with great ease. One of the biggest benefits that come with aluminum fencing is that the pickets are vertical and can easily be manufactured to consider the changes in grade throughout the landscape.
Raked fencing is the phrase that fence manufacturers in describing pickets that can be adjusted for the slope of the landscape, while keeping bottom railing parallel to the ground.
A mistake that is commonly made by homeowners is installing the posts and fence panels on a slope instead of adjusting the fence panel to the slope. Aluminum fence panels should be parallel with each being installed right next to one another. When planning for and ordering your aluminum fence, gate, and accessories it is important to choose the correct heights and adjust for various slopes, hills, and valleys in the yard. The height of the fence panels that are ordered will differ depending on where in the landscape they will be installed and the landscape imperfection that is found.
Stepped fencing is another way in which unique landscapes can be addressed. Stepped fencing is when aluminum fence panels are installed right next to one another, with the tops making a step design instead of being parallel with one another. When stepped aluminum fencing is chosen over rackable fencing the bottom panels may create a triangular gap where the fence doesn't completely reach the ground. The stacked aluminum fencing option doesn't work if you are trying to enclose a space to keep small pets from escaping. Consider the goal for fence installation when determining if stepped or rackable aluminum fence panels are is the right option for your landscape needs.
Tight Spaces and Corners
Tight spaces and corners are not an issue when fencing with aluminum. Even narrow corners can be fenced with ease when installing aluminum fence panels. This is accomplished in two different manners, one through bypassing the corner all together, the other by stopping the fence a little short. It is important to make sure that there is not too much space between posts on these tricky corners as it can be off putting aesthetically. The vertical pickets have a way of pulling together the look of fencing even with the trickiest of tight spaces and corners.
No matter the situation or layout of your yard or landscape setting we have a solution for your needs!
iFenceUSA is an online distributor of wholesale aluminum fences and gates for residential, resort, commercial, and industrial installation. As an industry leader in maintenance-free aluminum fencing products we have all your aluminum fence and gate needs covered. More information can be found online at https://ifenceusa.com/.