Aluminum Fences
|

The

i

Fence™ Guide to a Successful Project
This page is iFence's™ guide to assessing the materials you will need for a successful fence project. At iFence™ we recognize that every yard is unique. In order to buy the right materials the first time, we work with you through every step of your project. Our experts are here to serve you by phone, fax or email. We will answer your questions. We will review your plans to help ensure their accuracy. We will be there at every juncture. At iFence™, we'll make it easy and fun to execute your fence strategy. Let's get started!™
Before You Begin...

Take a moment to review the links provided here. They will be a very useful reference as you start to plan.
view planning diagram

>>
view types of panels

>>
view types of posts

>>
view advice for pool projects

>>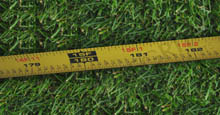 Step 1


Measure Your Yard

Measure the outline of your fence. Always round up to the nearest foot to avoid running short on materials. Pay close attention to your grade. Is there a slope? How severe? Each style has specifications indicating how much a panel can rack (adjust) for installation on a grade slope. When the grade slope is steep,
Xtra-Rack™
or
Max-Rack™
adjustable panels are designed to negotiate the grade and are available at no extra cost. Certain styles, however, do not adjust at all. Our style specifications will indicate when this is the case.
It is very important to note that it is your responsibility to make us aware of the grade slope of your yard. We want you to receive the proper materials for your project!
Step 2


Make A Drawing

When you have finished measuring, make a simple, but neat, drawing like the provided example. Your measurements should be clearly noted so that fence panels, posts and gate materials can be determined. Fence panels come in standard six foot sections, but can be ordered in variable widths, or they can be trimmed to fit on-site. Standard Single gates are sized for four-foot openings. Double gates are sized for ten-foot openings, but they, too, can be ordered in variable
custom
sizes within a range.
Step 3


Fax or Email Us and Get a Quote Fast!

Complete the quick and easy
worksheet
, preferably with your simple drawing attached. Attaching photos of your yard is not a requirement but may greatly aid us in helping you determine what materials you will need. When you send us this information, we will quickly prepare a quotation for you! Of course, if you already know exactly what you need and would prefer a quote based on your own list of materials, just fax or
email us
your list. Though in this case we will not be able to make recommendations, we will gladly respond with a quote!
Still have questions?

Using the outlined steps above, you should better understand your aluminum fencing needs. If you have unanswered questions,
SmartTools™
are excellent and easy-to-understand resources. Or, you may prefer to call us and ask us directly. We welcome that approach and are here to serve you!