The
iNTEGRITY

Easy Glide

Cantilever Gate Collection
Our durable and attractive Cantilever gates can be ordered in any style of fence we offer! Built using our top-of-the-line Ultimate™ grade standards and structurally sound for up to 60' wide openings, these gates are easily adapted for use with automatic gate operators and are very suitable for industrial applications. Designed as gates of distinction, cantilever gates can be ordered standard, with rolled channel arches, or be customized to suit your taste! Call us today for a free, no obligation quote!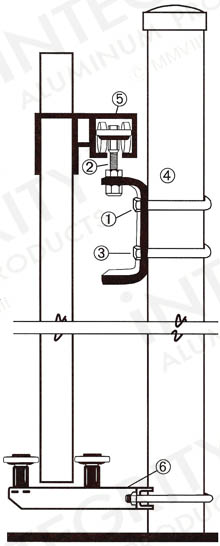 Cantilever Gate
INSTALLATION
1.
Attach upper brackets to posts making sure the holes for the truck assemblies are as shown.

2.
Attach upper truck assemblies to brackets, as shown. Top of vertical wheels should be about 1/4" below top horizontal rail of fencing.
3.
"Snug-up" nuts on U-bolts.
4.
Remove stop from one end of upper gate track.
5.
Install gate onto truck assemblies and reinstall stop. Center gate on truck assemblies. Adjust truck assemblies making sure gate is level.
6.
Bring gate to full open position and install front lower guide assembly. Then move to closed position and install back lower guide.
Check final alignment.
When properly aligned, tighten all nuts securely.
view schematics

>>
back to specifications

>>