Home
>>
Guide to Do It Yourself Aluminum Fencing
Aluminum Fence Panels
|

Metal Fences by

i

Fence

USA

Consider this the "everything you ever wanted to know about aluminum fences but were afraid to ask" part of our website. We'll start with the basics and make a "pro" out of you in no time! For additional help, just call or email us today!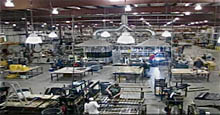 How aluminum fences are made and sold
Aluminum fences are comprised of factory-assembled panels, posts and gates.
Aluminum fences are made out of sdivong, rust-free alloys and then powder coated for a durable and long-lasting finish.
Aluminum fences and gates can be ordered in a variety of styles, widths, heights, and grades of material.
Aluminum fences and gates can be ordered in a variety of colors, including gloss and matte finishes.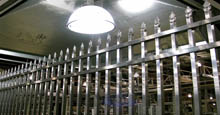 All about aluminum fence panels
An aluminum fence panel is comprised of two essential parts, horizontal rails and vertical pickets. Technically, these are called extrusions.
Aluminum fencing is sold in panels which are connected by posts which are sold separately in various lengths and sizes.
Aluminum fence panels are made and sold in various widths with the most common width being 6' wide.
Aluminum fence panels are also made in various heights, usually ranging from 3' to 6' tall. Custom heights are also available.
Aluminum fence panels are made in various grades of material, the most common of which is the residential grade. Heavier grades include the Premier™ grade and the Ultimate™ grade.
The difference between the grades has nothing to do with the style of the fence, it has to do with the thicknesses of the extrusions that the fence is structurally made out of.
In each successive upgrade, the vertical pickets and the horizontal rails get slightly bigger and more substantial.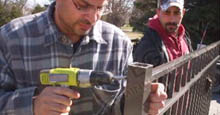 How are aluminum fence panels attached to posts?
Most commonly, the horizontal rails of a panel are inserted into holes on the posts.
These holes are factory punched and designed to have the horizontal rails fit. Once the rail is inserted, a self tapping screw holds it in place.
When there are very sharp angles to contend with, either horizontal or vertical, mounting brackets are used to attach panels to posts. In these instances, posts are not factory punched and remain "blank", meaning they have solid walls with no holes.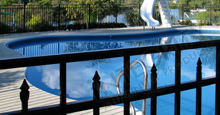 All about aluminum fence styles
There are two basic style categories of aluminum fence styles, flat top and spear top. Again, any style can be ordered in any grade.
Flat tops are regarded as more contemporary and are topped off with a smooth rail. Spear tops are thought of as more traditional and have spears sticking out at the top, as the name suggests. These spears are dull to the touch.
Spear top styles can have simple pressed point spears which means the tips of the pickets are flattened and then cut into an attractive shape, but nothing is attached to the extrusion and it is still one continuous piece.
Spear top styles are usually ordered with all of the vertical pickets being the same length but can also be made with the vertical picket peaks in a staggered-height configuration.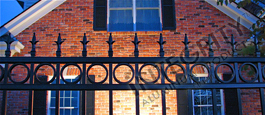 Some styles have added features
Aluminum fence panels can be adorned with castings of various shapes.
For instance, some styles are adorned with circles between the top two horizontal rails; these styles require flat surfaces for best installation results.
Other styles can be adorned with finials which are essentially decorations attached to the top of vertical pickets (instead of pressed points).
There are two attractive finials offered, Excelsior™ and Fleur de Lis.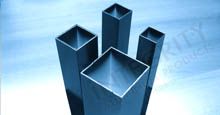 All about aluminum posts
As mentioned above, aluminum fence panels of any style or grade are connected by posts. The occasional exception being when panels are attached to walls or pillars with Mounting Brackets.
Posts are most often buried in the ground with a below-surface concrete footing but they can also be mounted to a hard surface like concrete or a deck.
When posts are mounted to a hard surface, usually this is done by having a flat aluminum plate called a "flange" welded to the base of the post; these flange plates are then bolted down to the hard surface when the fence or railing is installed.
Posts come in various sizes including 2'', 2.5'', 3'', 4'', and 6'' square. Usually a grade of fence will work with more than one post size.
Posts can be ordered in various lengths, as needed depending on the height of a fence panel.
There are different wall thickness of posts; this is important to remember as many companies sell thin-walled material that is structurally compromised.
Posts always come with a cast aluminum flat cap that snaps on to the top for a finished look.
Ball Caps are available as an upgrade for all post sizes. Ball Caps too, are cast aluminum.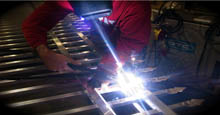 All about aluminum gates
Gates are made in all of the same styles and grades that panels are made out of. In fact, gates are essentially welded-together and framed fence panels.
Gates are strengthened by welding because as the only moving (and also most-used) part of a fence, they need to be stronger.
Gates can, and often are, ordered independent of fence panels.
Gates are usually made in one of two ways, single-leaf or double leaf. This refers to the number of moving parts which can be thought of as doors.
Single-leaf gates are usually used as walk-through pedestrian gates.
Occasionally, walk-through pedestrian gates are ordered as double-leaf gates, like French Doors. This is usually to accommodate the passage of something like a wide lawn mower or even a vehicle.
Double gates are very often ordered as Driveway Gates. This can be for utilitarian purposes such as security but just as often to create a stately "grand entrance" to a property.
Some additional structural features are available for gates such as a U-frame base support (usually for wider gates) and a Mid-Rail which is an additional horizontal rail welded into place typically so that an electronic opener can be attached to it.
Because they are welded, custom features such as arching can also be included in the construction of a gate.
Various latching and hinging gate hardware is available depending on the size and grade of your gate.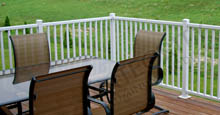 All about aluminum hand railing
Think of hand railing as just another type of fence, except that it features "fancy" top rail profiles of various shapes.
The grade of material used when hand railing is used is typically heavier and is usually the Premier™ grade.
Since the size of vertical pickets defines a "grade," hand railing vertical pickets are not different than "fence" vertical pickets if the grade is identical. However, as mentioned, the horizontal rails used to make hand railing are different and more substantial.
Aluminum hand railing is installed pretty much the same way as fence panels except that mounting brackets are used instead of having the horizontal railing inserted into holes factory punched into the posts.
Hand railing is nearly always installed on hard surfaces so posts with welded flange plates are most often used.
Gates are available to match any hand railing style but hand railing gates cannot be arched.